27 Jan

New for 2020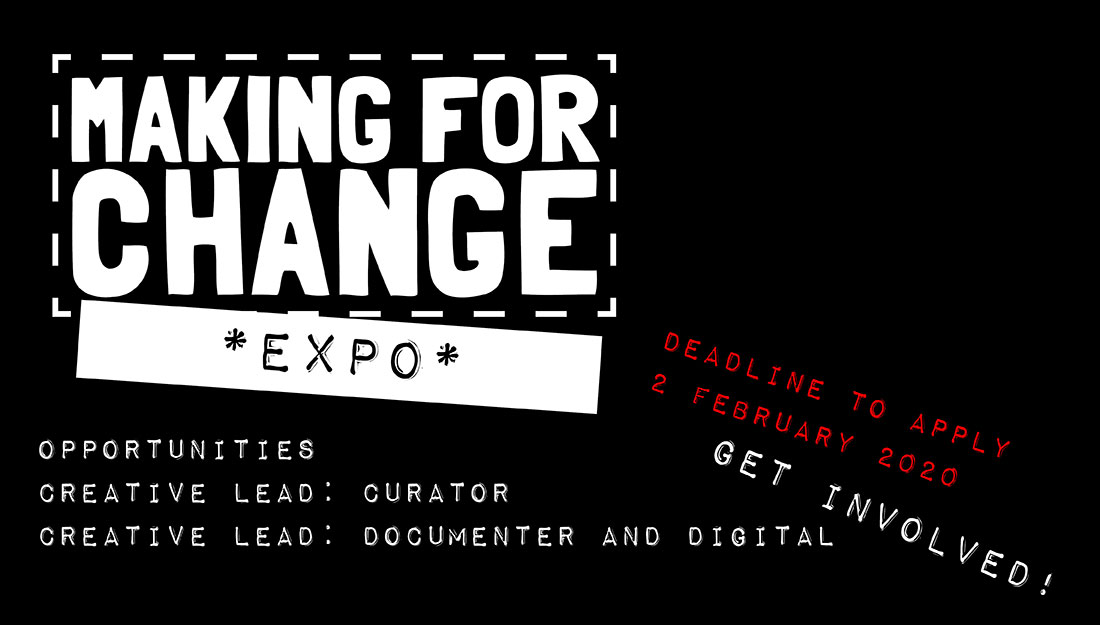 We'll be announcing details soon for the next development in our craftivism programme: Making for Change Expo, a new exhibition taking place at The Gap in May 2020. This new exhibition will showcase the ideas and work from Making For Change which investigates positive social change through combining craft with activism.
Making for Change Expo is a youth led project. Would you like to be involved?
Are you interested in developing your skills as a curator, exhibition organiser, social media marketer or project documenter/photographer?
Craftspace is recruiting 2 young people 18-25 to take the lead on this project. Visit the take part section of the blog for more details and a link to the application form.
Interested in Making for Change but not ready for a paid role?
Visit the exhibition between 9th May and 7th June 2020 (the Gap is open Wednesday to Saturday 11am-5pm).
Come along to the closing social on Saturday 6th June. There will be a workshop, performance and refreshments. Everyone welcome.
We will also be running activism and making sessions for specific youth focused groups. If you belong to a group that might be interested get in touch at

[email protected]

.
"(Craftivism) is a really interesting concept and I like the fact that you get involved in doing something rather than just talking about it. You have a stereotype image of what craft is about and this breaks the mould a little bit."
Making for Change Expo is supported by the Saintbury Trust