11 Jul

Making for Change Launch – Inspiration Day

To launch  Making for Change , Craftspace held an inspiration day on the 11th July 2015. The event was hosted  at Birmingham's Impact Hub and over 40 young people attended.  The attendees participated  in different craftivist activities,  discussed their opinions  about  social justice issues and listened to talks from the  three artists in residence.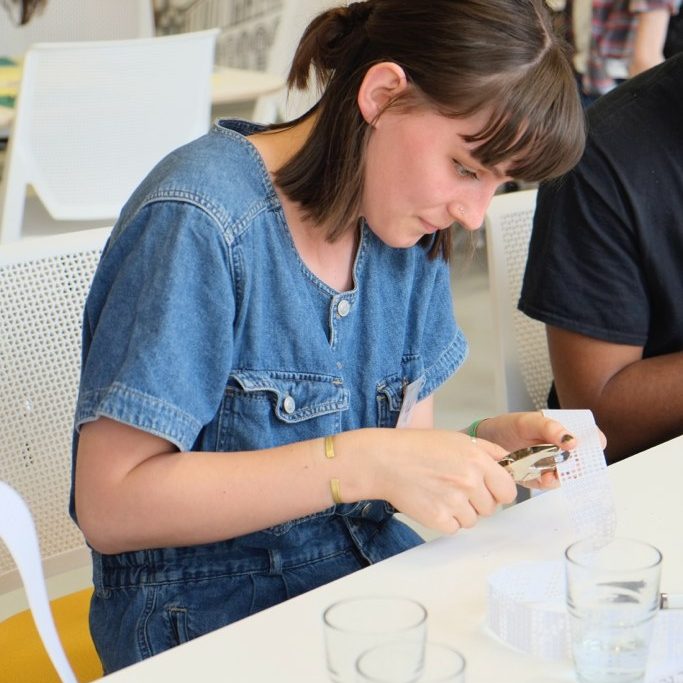 One of these artists was Kate Rolison.  A poet turned crafter Kate combined her love of words with craft and activism in her project 'secrets of self preservation'.  Stitching words into small ribbon banners, Kate explored how this calming, repetitive action could increase well-being whilst challenging the stigma associated with discussing mental health issues.
The second artist was Gemma Latham. During the session Gemma worked with young  people to punch holes into strips of paper to create words. The techniques used in this activity were simple and repetitive, so even the most reluctant young person gave it a try and instantly became immersed.
Gemma also monitored some of the participants' heart beats to exemplify the calming effect of craft. When the participant's heart beat was at a calm steady pace the word craft could be identified on a monitor.
Finally we had the Craftivist Collective's Sarah Corbett using one of their  template activities;  'stitchable change makers'. These were embroidery dot-to-dot's of the faces of famous activists such as Nelson Mandela. Through the process of stitching young people were asked to think about how they too could become change makers.
The event proved to be very successful.  Young people said  that the event had given them an opportunity to take part in something they wouldn't have thought was for them.  One young person said 'Today showed me that I'm actually an activist. I am an activist!'