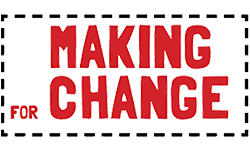 14 Dec

Next Steps For Making for Change

Now that Making for Change in Aston and Newtown has nearly finished we are beginning to think about the next version of the programme.  This time we would like to work with young people who are new to the city and most specifically those that are asylum seeking and have refugee status.

To help our thinking and planning we recently brought together people from different organisations who work with young refugees or asylum seekers or have delivered creative programmes to them; British Red Cross, Uprising, The Gap, Odara, Refugee Action and Forward Thinking. We talked to them about Making for Change and what it could look like for the people they work with.  We also discussed the practicalities; what we would need to think about to make sure activity was appropriate and meaningful?

The next step in this process is to run a creative workshop with young refugees and asylum seekers (with the support of the British Red Cross) to find out whether  a programme like Making for Change could be of interest to them and to explore new sources of funding for work with this focus.

We hope to start activity in Autumn 2018.